Applicable for a couple.
Overnight Stay in Premium Room for the couple in a decorated room.
Decoration theme you can choose as Love Theme or Birthday Theme.
Room amenities.
Morning breakfast included.
Inclusive of all the applicable taxes.
Extra charges can be applied depending upon the property rating, therefore check the final amount before placing the booking.
Love Theme Inclusions:– Love Foil Balloon, 100 Metallic Balloons Decoration, 10 Red Heart Shape Metallic Balloons With Ribbon & 2 Red Heart Foil Balloons.
Birthday Theme Inclusions:- Happy Birthday Foil, 100 Metallic Balloons Decoration, 2 Star Shape Foil Balloon & 1 Champagne Bottle Foil Balloon.
Advance booking is highly recommended.
Check-in time starts from 2:00 Pm & Check-out by 11:00 Am the next day.
Guests can Check-In using any local or outstation ID proof in Hard Copy (Pan Card Not Accepted).
The design & interior of each room is different as per the availability.
It is mandatory to be 18+ for both guests.
Post Booking You will receive Hotel Booking Id via SMS & you will have to show it at the reception at the time of your check-in.
More than 24 hours before experience: Cancellation with 90% Refund
6 hours to 24 hours before an experience: Cancellation with 50% Refund
Less than 6 hours before experience: No Refund on Cancellation
No Cancellation is possible for experiences booked for 13th and 14th February as these are Valentine's Special Packages.
Trusted Platform - More than 10,000 celebrations every month
Professional Team - Follows all Safety Measures & Sanitisation Requirements
Complete Confidence - Browse all Verified Reviews and Original Photographs
100% Refund - In case of non-availability, a complete refund of total amount is initiated
About The Experience
Imagine entering a hotel room fully decorated for your partner and you! We are taking relationship goals to the next level! We know that moments with your beloved are absolutely priceless! Enjoy a private and comfortable stay along with an element of surprise. A mix of Heart shaped foil and air balloons, rose petals and candles will take their heart right away and will leave a lifetime impression in their minds.
You must be tired of the same old birthday parties. The simple birthday decoration at home is not as charming anymore. Well, then try a themed birthday celebration.
Fairy tales and princesses are adorable. Everyone loves them, and so do we. That is why we have a princess-themed birthday decor for the princess in your life.
Our birthday decoration consists of a total of one hundred gorgeous pink balloons, half of which would cover the floor, and the other half of it would go up on the ceiling. For the backdrop we have a stunning set of pink foil balloons, spelling out "Happy Birthday", grand and beautiful enough to be worthy of a princess. Our service covers all of jaipur, so what are you waiting for? There is no need to worry about the location. This service works well for a kid's birthday party as well!
Experience Video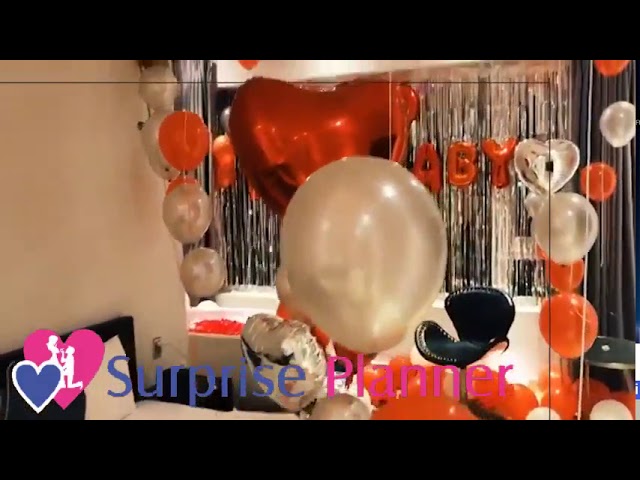 Review