10 Heart Shape balloon with ribbons
Happy Birthday foil balloon(Silver or Golden color)
Love foil balloon
2 heart shape foil balloon
50 red and white balloons
1 fairy light
Your address, balloon colour, & any other personal preferences will be taken over an email after your booking.
Cancellation Policy - 90% refund if cancellation done 1 day in advance. No cancellation on the same day.
The ballons will be filled with normal air and not helium or any other gas that could be harmful.
Before 9am and after 9pm late charges 200/- will be applied.
The decorator will not wait more than 30 minutes at the location from the chosen time slot.
Please provide stool or ladder to reach the ceiling.
We use air balloons, fix them to your ceiling with a removable cello-tape (generally no mark on ceiling but please remove within 24 hours) to create the same experience as helium balloons.
Please call or chat or email to check availability before booking.
More than 24 hours before experience: Cancellation with 90% Refund
6 hours to 24 hours before an experience: Cancellation with 50% Refund
Less than 6 hours before experience: No Refund on Cancellation
No Cancellation is possible for experiences booked for 13th and 14th February as these are Valentine's Special Packages.
Trusted Platform - More than 10,000 celebrations every month
Professional Team - Follows all Safety Measures & Sanitisation Requirements
Complete Confidence - Browse all Verified Reviews and Original Photographs
100% Refund - In case of non-availability, a complete refund of total amount is initiated
About The Experience
Life is a journey! And some key milestones need to be celebrated tastefully. Surprise your loved one as they walk into a room set-up in slightly naughty and slightly romantic fashion! To SURPRISE PLANNER BANGALORE professionals will come at a pre-agreed time and prepare the room for you. A surprise comes best when you're not looking for it. Love withers with predictability but not when you know how to keep the spark intact by doing the little things for each other to show you care. Sprinkle the fragrance of love with a romantic theme in this journey of your life together. We value the theme of love and your sentiments for each other Relish the time together with a love-struck cupid theme and a room full of frisky and dancing balloons. SURPRISE PLANNER IN BANGALORE team will leave you awe-struck with the perfect heart-shaped air filled balloons, red ribbons
Experience Video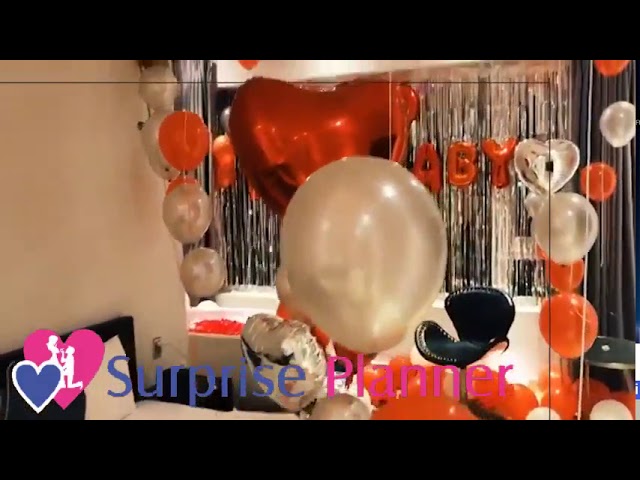 Review