Choice of balloon decoration - Love Decor/ Birthday Decor
Choice of balloon decoration - Love Decor/ Birthday Decor
Tapes will be used to hang Happy birthday / I love you foil balloons on a string.
If you choose Love Decor,it includes: 100 red latex balloons, red-coloured love you' lettered foil balloons, 7 red heart foil balloons, 1 LOVE centrepiec with a red foil balloon on it, pretty strings of ribbons, 4 clips
If you choose Balloon Decor, it includes: 'Happy birthday' lettered golden for balloons, 1 whiskey foil balloon, 1 champagne foil balloon, 100 balloons in ta combination of Black and golden color and 4 clips
No x Candles and flower petals decoration
No x Helium balloons
Customer has to get the permission for the decoration from the hotel staff / hotel manager surprise planner will only provide the decoration service.
Tape will not be used to put balloons on the wall and ceiling. Your decoration choice & any other personal preferences will be taken after your booking
Decorator will wait for half an hour after reaching the location from your chosen time slot
Surge is applied for same day bookings
More than 24 hours before experience: Cancellation with 90% Refund
6 hours to 24 hours before an experience: Cancellation with 50% Refund
Less than 6 hours before experience: No Refund on Cancellation
No Cancellation is possible for experiences booked for 13th and 14th February as these are Valentine's Special Packages.
Trusted Platform - More than 10,000 celebrations every month
Professional Team - Follows all Safety Measures & Sanitisation Requirements
Complete Confidence - Browse all Verified Reviews and Original Photographs
100% Refund - In case of non-availability, a complete refund of total amount is initiated
About The Experience
Romantic Room Decoration With Stay In pune. Have you been looking forward to Plan a Romantic Room Decoration With Stay In pune? Well, your search ends here, As surprise planner pune brings an overnight stay package inclusive of decoration which is going to make your evening with your partner more amazing & interesting. You can choose the type of theme decoration you want for your event I.e. Birthday theme Or Romantic Theme. You can choose the same while placing the booking. We know how difficult it is to find a Stay option that is inclusive of decoration. That's why to give you ease we have created this package. Also, you'll be able to choose your stay preference during the booking as we have multiple stay options available to choose from. Your Package will be inclusive of Overnight stay, Room Decorations, Room Amenities, Next Day breakfast & service taxes. So book the Romantic Room Decoration With Stay In pune & spend some private time with your partner & Create Happy Memories.
Experience Video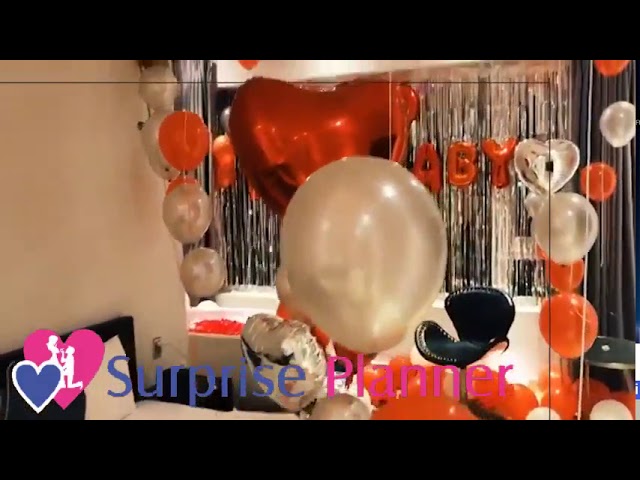 Review