200 white & blue balloons
Champaign bottle & Champaign glass foil balloon
Birthday Banner
Happy Birthday foil balloon & Star foil balloon
Choose the place of decoration
If need a birthday cake, please inform on prior notice
More than 24 hours before experience: Cancellation with 90% Refund
6 hours to 24 hours before an experience: Cancellation with 50% Refund
Less than 6 hours before experience: No Refund on Cancellation
No Cancellation is possible for experiences booked for 13th and 14th February as these are Valentine's Special Packages.
Trusted Platform - More than 10,000 celebrations every month
Professional Team - Follows all Safety Measures & Sanitisation Requirements
Complete Confidence - Browse all Verified Reviews and Original Photographs
100% Refund - In case of non-availability, a complete refund of total amount is initiated
About The Experience
This time, do something royal & amazing. Make your loved one's birthday special with the blue & white balloon. Here, what we do is, we choose a wall for decoration. We use Happy Birthday silver (any other) color foil balloons and stick them to the center of the wall. Star foil balloon will be cherry on the cake. This adds extra elegance to the decoration. Your Beloved's birthday celebration will become more amazing & exciting when we'll add white & blue balloons all over the floor & around the Happy Birthday Foil Balloons. We create two pillars beside the "Happy Birthday" foil balloons. On the top of both pillars, we put a champaign foil balloon on one pillar & a champaign glass foil balloon on the other pillar. It completes the decoration.
You can plan this blue & white balloon birthday decoration at home for your friend, brother, sister, parents & someone special at an affordable price. This is an evergreen birthday decoration. It looks different & soothing to your eyes.
Experience Video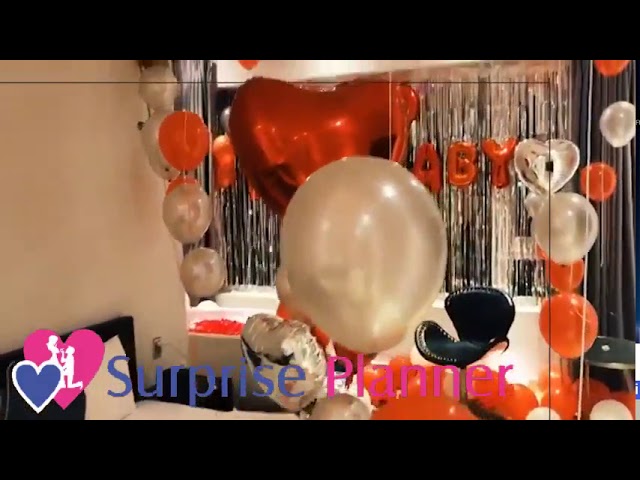 Review