200 Air filled Metallic balloons(40-50 Balloons stick to the ceiling using removable tapes).
Hanging Ribbons.
Remaining 150 Balloons to be used to make Bed Standee and Floor standee.
10 Red Heart Foil Balloons.
500 gm Rose Petals.
Decorator's Conveyance charges.
All the applicable service taxes.
Around 40 to 50 balloons with ribbons are stick to the ceiling only and rest are placed in the form of bunches or loose on floor as per your choice.
Please arrange a ladder or stool for the decorations.
These are not helium balloons.
For same day bookings kindly call on our customer care to confirm the possibility.
Please remove the balloons after the event is over as keeping them for longer duration might result in marks.
A surcharge may apply for bookings before 12 pm (i.e. Rs 250).
More than 24 hours before experience: Cancellation with 90% Refund
6 hours to 24 hours before an experience: Cancellation with 50% Refund
Less than 6 hours before experience: No Refund on Cancellation
No Cancellation is possible for experiences booked for 13th and 14th February as these are Valentine's Special Packages.
Trusted Platform - More than 10,000 celebrations every month
Professional Team - Follows all Safety Measures & Sanitisation Requirements
Complete Confidence - Browse all Verified Reviews and Original Photographs
100% Refund - In case of non-availability, a complete refund of total amount is initiated
About The Experience
Looking forward to plan a romantic surprise for your better half on anniversary, birthday , valentine's day or date night ? Well surprise planner comes with a solution to that. This romantic decoration is perfect when it comes to make a romantic gesture to make your better half feel special. Be it your bed room or hotel room this setup is feasible for any room type. We got everything covered when it comes to make your evening romantic. This romantic theme is inclusive of heart shape foil balloons along with the fine quantity of rose petals to decorate the bed or cake cutting table accordingly. While walking into the room when your better half will look at the setup it will take their breath away. So don't miss the chance to express your love towards them because life is what we make it & at the end what really matters are the memories. So book the package and get the setup ready by our team of professionals & create happy memories.
Experience Video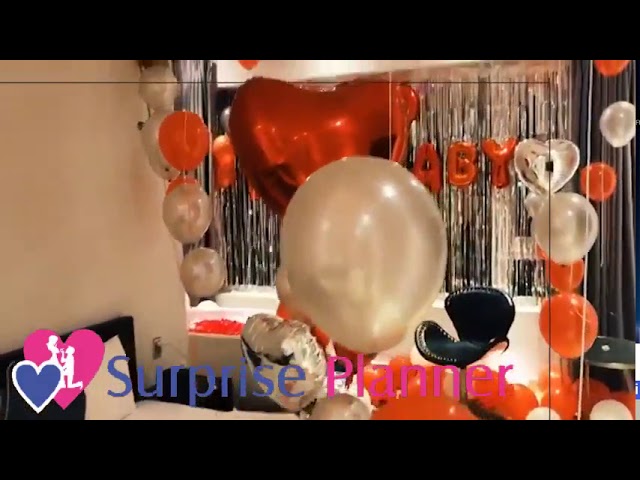 Review