One word that brings a smile to the face of everyone around is " Surprise!". Atleast once in a lifetime, we have been caught off-guard by fun after hearing the word Surprise.
Planning a surprise party for anyone is an exciting experience, but with the excitement comes a lot of work that needs to be done perfectly. Are you planning one for someone? Want to make your loved one feel important and loved with a memorable surprise party? If so, then you have to do a lot of work with complete secrecy. No matter what the occasion is, you need to go all out to plan a surprise party that is going to leave your loved ones feeling amazed and surprised. Don't know how to plan a Surprise party?
Didn't do it once? Well, don't worry. We can help you out with the perfect planning guide here:
A Party Venue:
Do you know what is the first step to planning Surprise Party? Yup, it is deciding the venue for the surprise event. Deciding on a party when is quite an important step of the Surprise as you need to make sure that the venue that you decide suits the need of the occasion.
If the person for whom you are planning a Surprise is an introvert, then you can plan a small party with a few decorations and a small group of people so that the Surprise receiver doesn't get overwhelmed by the party.
If your honoree is a person that is an extrovert, then you can go to several party venues such as restaurants, halls, poolside venues, outdoor garden parties, terrace parties, and so on.
Select the venue as per the preference and liking of the honoree to make them feel that you were thoughtful while planning the sweet Surprise.
Ps: Don't forget to send invites to the guests and share the venue details. Also, make a menu as per the honoree's liking.
A Party Theme:
It's all about the guest of honour, so why not plan a theme as per their favourite movies, TV shows, or books? Wondering How to throw a Suprise Party while keeping a theme? Well, you can go for choosing a simple theme with a choice of colour scheme that is a combination of the honoree's favourite colours. You can paint the venue with the hues of their choice, such as decorations, tableware, invitations, activities, and more.
Make sure to do the research about the party honoree's liking to decide the right thing for the party so that you can further plan the next part of the event, which is the decorations of the party.
A Surprisingly Stunning Decoration:
How to throw a Surprise Party? The answer is -Decorate! Honestly, who doesn't like stunning decorations on their special day? Remember the time when we mentioned the theme? Now is the time you need to implement it with the help of the right decorations that go along with the theme. Let your imagination take charge and rent out some of the most stunning thematic props, unique pieces, confetti, and more.
If you want to keep it minimal, then you can go with a few centre pieces filled with balloons and ribbons on the table.
If you want to go a little bit overboard, then you can try out flowers, candles, balloons, paper lanterns, and other decorations that can make it feel like an exciting affair for the night.
Do not forget to make a special space for the decoration that gives you Instagram worthy shot with a sweet finishing touch that can be a great spot for selfies and photos.
A Surprise Gift or Performance: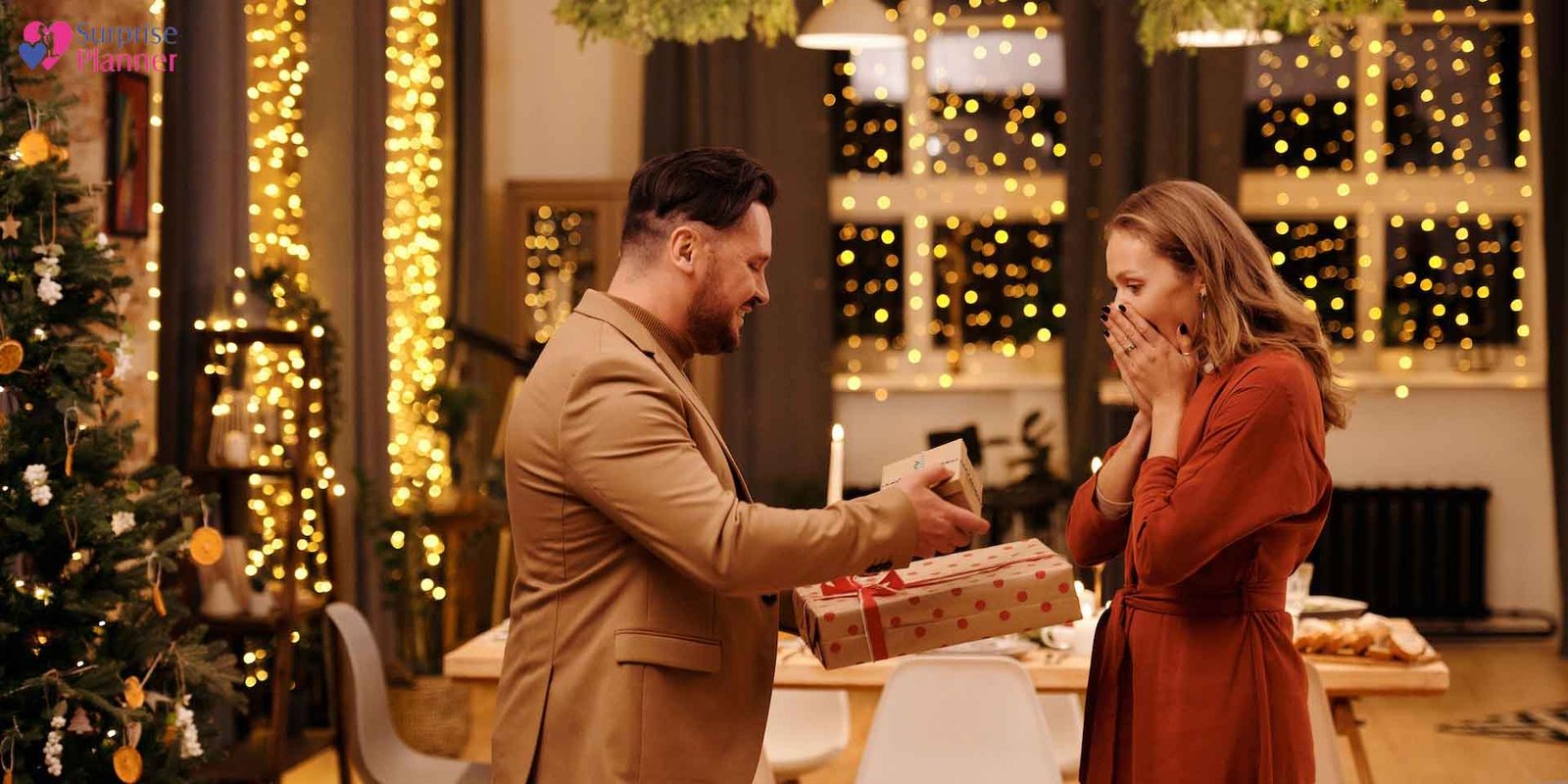 Want to go all out with the Surprise party? How about planning a Surprise party with a live musical performance or a Surprise gift hamper for the honoree? We know it requires a lot of effort, but it is worth doing. You can dedicate a song to your loved ones, making them know that you admire their presence in your life. Not talented in the music field? Well, you can hire a professional!
A Gift hamper is always the best option if you are running out of gift ideas. Just put together the things that are the favourite of your honoree in the basket and decorate it with some chocolates, balloons, and flowers, and you are good to go! Surprise them with this sweet gesture!
Plan the Big Reveal:
Last but not the least step on " How to plan a Surprise party" is to plan the big reveal. You have put a great effort into planning and so make sure to find some fun ways to do the reveal.
For Example, you can hide the guests, and they can shout " Surprise!" as soon as the guest of honour enters the venue/hall/room. Plan the big reveal as per the personality of the guest of honour and make the party more interesting!
Celebrate Moments with Joyful Surprises: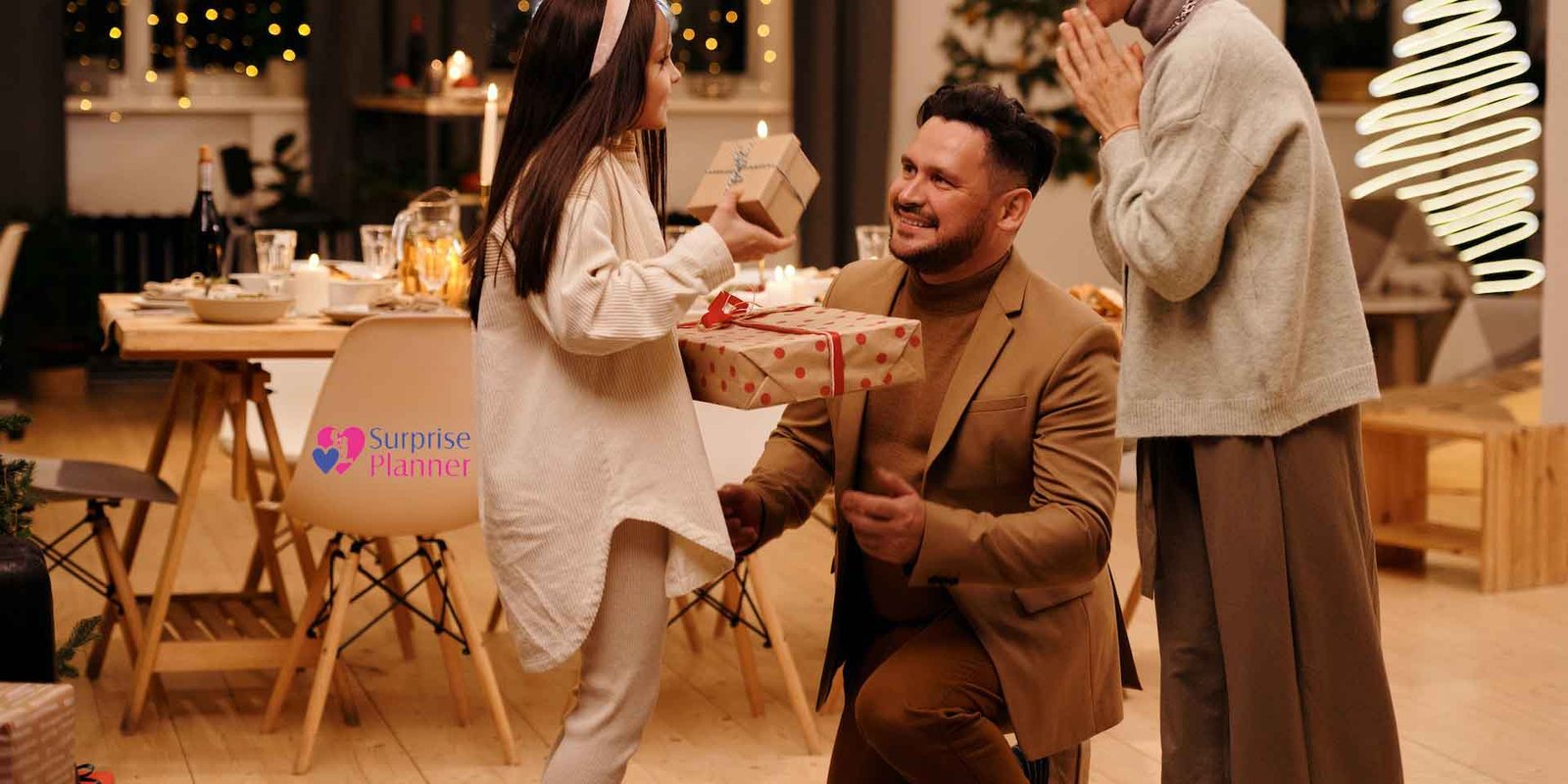 Planning a surprise party is a huge responsibility for any person. The process of planning it is definitely going to create some joyful memories for you and the guest of Honor that both of you will cherish forever. It is the time when you can utilise our guide on " How to Throw a Surprise Party" and plan a surprise party that is full of joyous moments. However, planning the perfect surprise party can be a little bit overwhelming for someone who is not an expert in arranging an event. So what to do?
Surprise planner is here to help you out in preparing a surprise party that will become the talk of the town. We are here to offer you a customised layout, perfect designs, decorations, and everything customised that you need for the big Surprise event. We know that you cherish your loved ones, and that is why we go the extra mile to plan the event just the way you want. Reach out to us for a Classic and memorable Surprise Party!