Balloon decoration ideas at home- Ideas for a Colorful and Fun Party
Want to turn your boring decorations into a happening ones? Want to know how? Well, when it is about turning an event into an extra fun occasion to remember them, balloon decorations play a major role in it. These Tiny little air-filled balloons are loved by children to adults and attract every guest irrespective of age. These little air-filled things can actually turn around the whole mood of the occassion. If you are up for an event and are looking for some really fun balloon decoration ideas, then we can help you out with it. Here is a list of some simple and elegant balloon decorations.
The Balloon Arch- The life of any event
The balloon arc is definitely on the top of the list when we mention balloon decoration ideas at home. Who would have known arranging balloons in a parabolic structure could make such a great decoration design? The design of balloon art me look a little difficult, but it's not actually difficult as all you need to do is get an Arc shaped frame and tie balloons together by covering the frame with them. And here you are; your Balloon Arch is ready! No matter what kind of event you are hosting, this design is definitely going to be a great hit among your guests.
Balloon Bouquet- A Stunning Bouquet of Balloons
You don't always have to decorate your event with flowers. You can just add balloons to the picture. It doesn't always have to be a flower bouquet when Balloons can do the same job and, to be precise, even better. One of the easiest breezy balloon decoration ideas at home you need to get metallic balloons of different sizes and colors and, with the help of helium gas, blow them up.
You can make an arrangement of these Balloons and tie the strings to the balloon and keep weight on it(tie it on the string as it will help in keeping the balloons on the ground). Now you can place these balloon bouquets in all the corners of your event place ( or room), and the job is done!
Balloons with confetti- A fun confetti-filled decor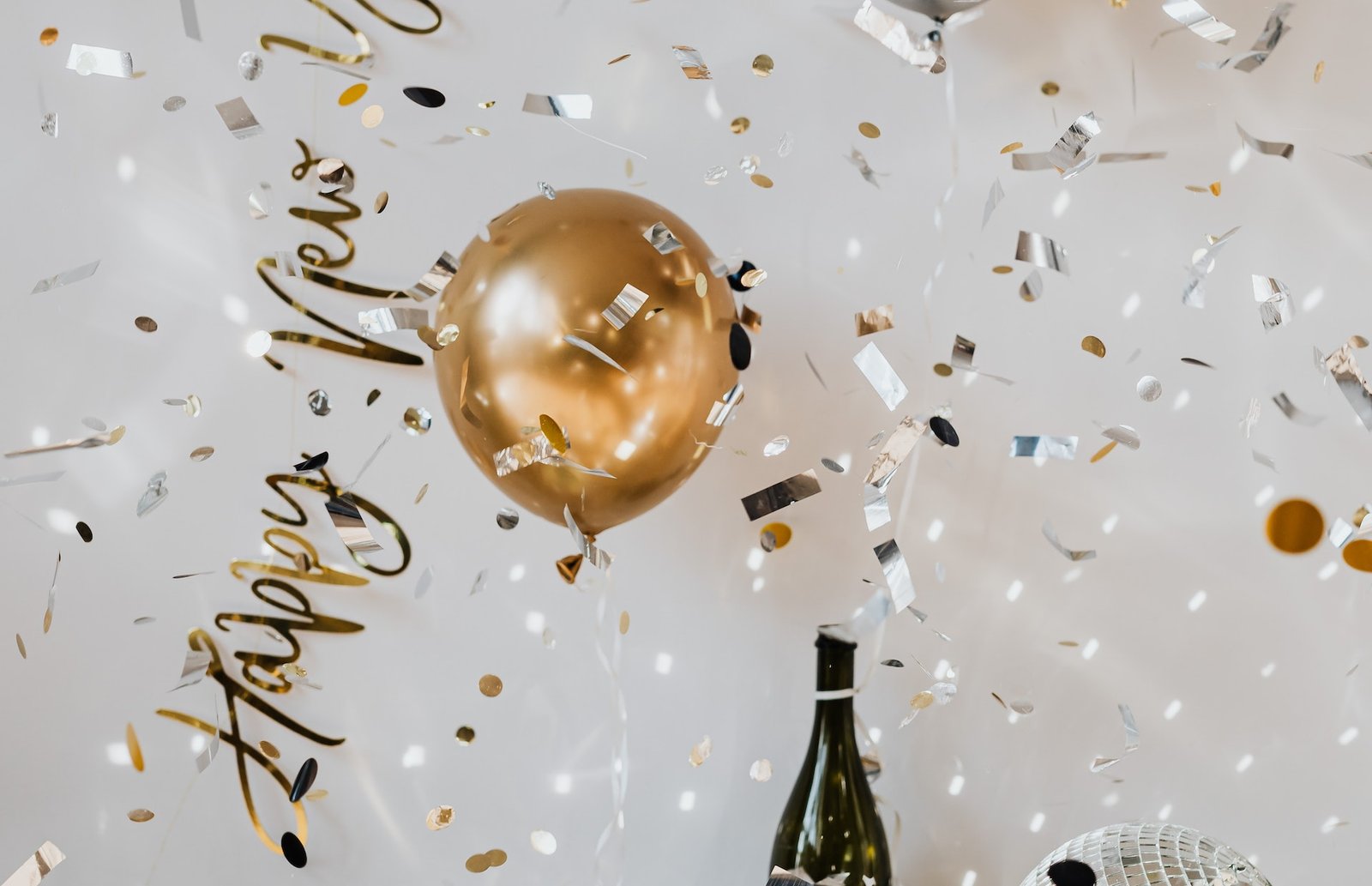 We all love confetti, but it can get a little bit more for you to handle, and it can be annoying too. And getting annoyed is what you dont want at your event. So how can we use confetti decoration without any hassle? Well, you can collect the confetti and trap these inside a clear/ transparent balloon. Isn't it a great idea? How to do this simple decor? It's easy.
Get clear or transparent balloons, and also buy some confetti that can go in these balloons. Fill confetti in balloons and blow these balloons with the help of helium gas. You can place these somewhere where it is a little breezy so that the balloons can move a lot, and along then, the confetti, too, will move. For the air, you can also use of fan so that it can be a perfect show for the confetti balloons.
Later on, when the event is about to end, you can pop these balloons and let the confetti do the job of making your place all sparkly. Balloons with confetti are indeed one of the easy-to-do balloon decoration ideas. You can give it a try.
Balloon Centerpiece- Lots of bouquets of Balloons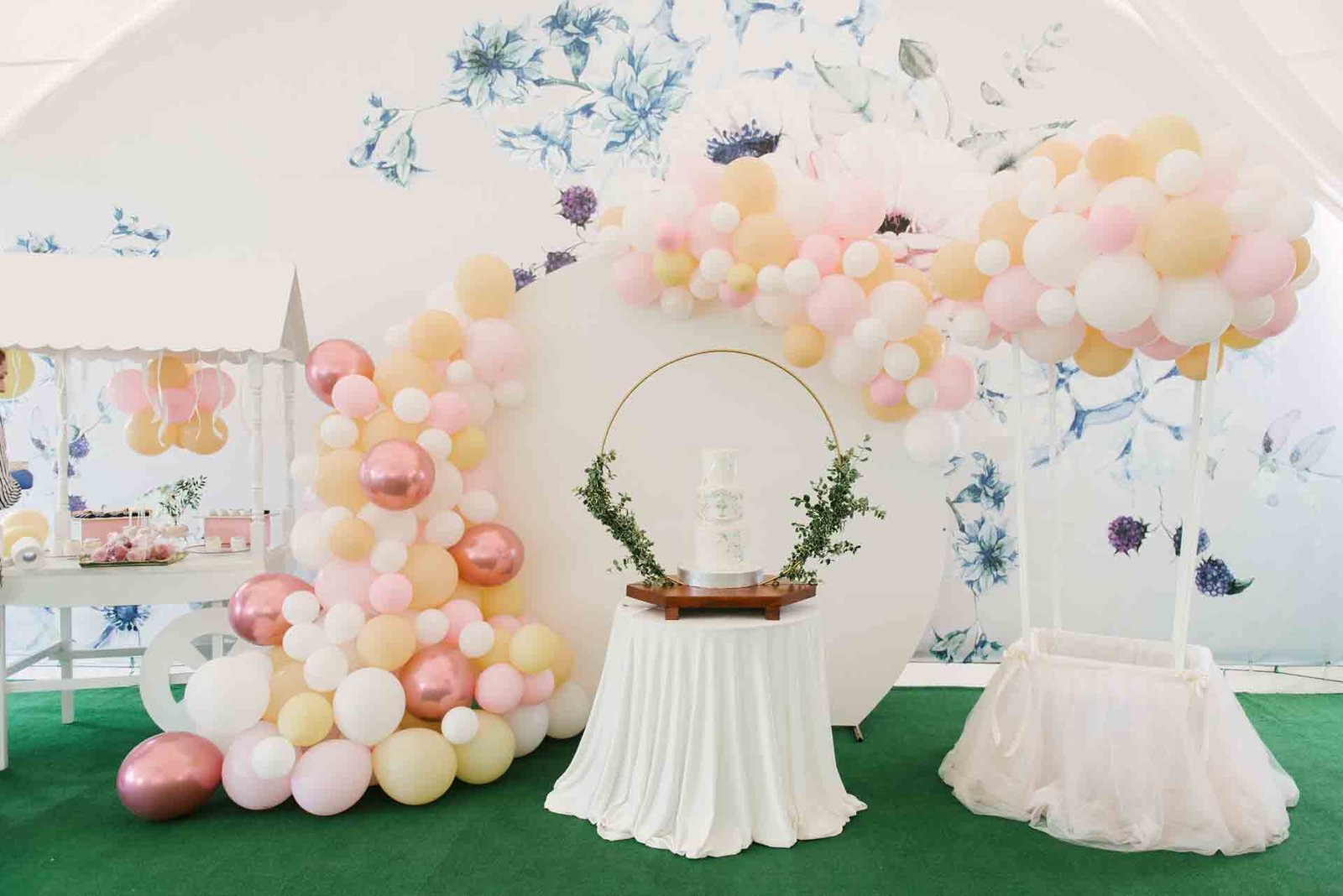 Balloons necessarily are not needed to be always decorated on walls. You can take a different approach by putting them as lovely bouquets. How to do that? First of all, get the helium gas before you even start blowing the balloons. Also, get some small vases and add some flowers to them. You can add two or three different colors of balloons together and tie them around the vases. This one is one of the simplest and most stunning balloon decoration ideas that you can ever come across.
Centrepiece bouquets of balloons are definitely a great decor idea if you are looking for something simple yet stylish. You can also mix any two colors, flowers, and Balloons, to make a decoration theme. And with that, you are done with the decoration!
Ceiling Covered with Ballons- An Aesthetic Vibe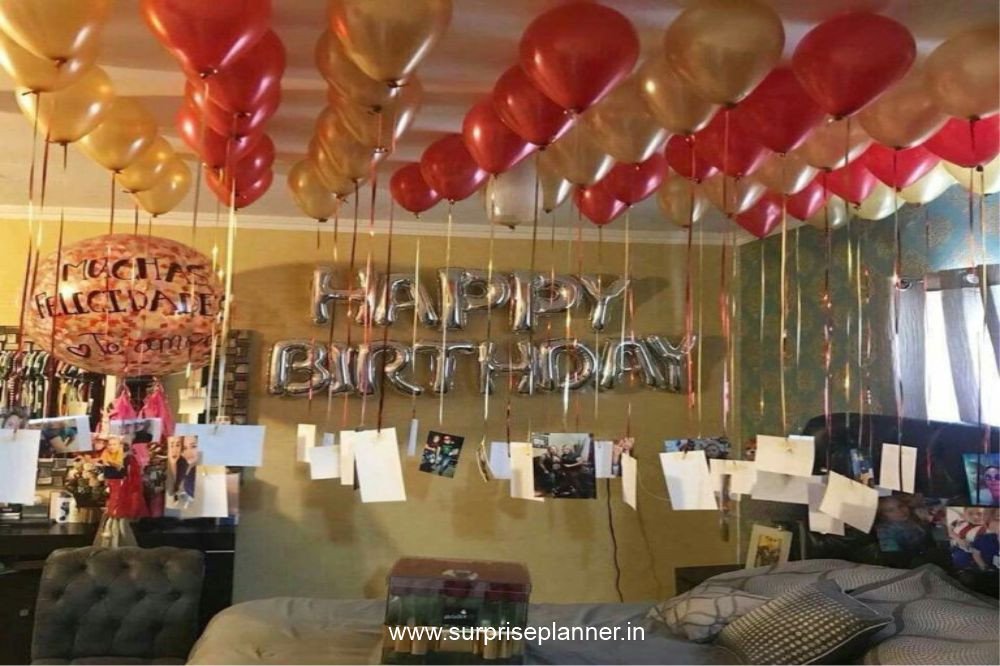 When we are talking about the best Balloon decoration ideas at home, we cannot forget to mention the Balloon covered ceiling decor. A hit on social media posts, balloon-covered ceiling decor is a simple but aesthetic design that you can give a try. A lot of people think about sticking balloons on the ceiling to make this aesthetic decor. Won't it only add more work to you when you are organizing an event, not to mention that your paint job is going to get spoiled due to it?
Well, the trick here is simple, just get helium gas, blow the balloon, tie the strings to these balloons, and let these balloons go up straight to the ceiling. And you are done; that is all needed. With this decor, you can fill your room with lovely balloons and keep your paint job safe. Not to; mention, the Instagram-worthy balloon-filled ceiling is what is the highlight of the event!
Conclusion:
Balloons are the ultimate decorative items that you can add to any event. Whether it is a kid's birthday party or a dinner party with your friends, balloon decorations can elevate your event's decor. If you are looking for more options for balloon decoration ideas and you can also try cloudbuster balloon decoration, where you can arrange white balloons in a typical cluster buster design to make it look like a cloud. Apart from that, you can also use balloons as pillars for decoration or create a bubble balloon wall decor with different sizes of balloons sticking together. The designs and decor for balloons are countless, and if you feel overwhelmed and get confused about the decor, then you can get help from Surprise Planner to organize your event! So this time, when you think about hosting an event, then go for the decor designs that we have mentioned here and impress your guest with this fun and air-filled little balloons!