Decorations have the power to make the observer happy and balloons are pure love! Almost everyone gets elated on seeing a balloon. This is why whether it is a kids' party or someone's wedding anniversary, balloon decoration is the first thing that pops up in the mind. Kids especially love these and this is why no birthday party is without balloons. If you have been planning a party and are looking for some top balloon decorations ideas, here they are. We are sure you will love these!
Colour Theme Balloon Décor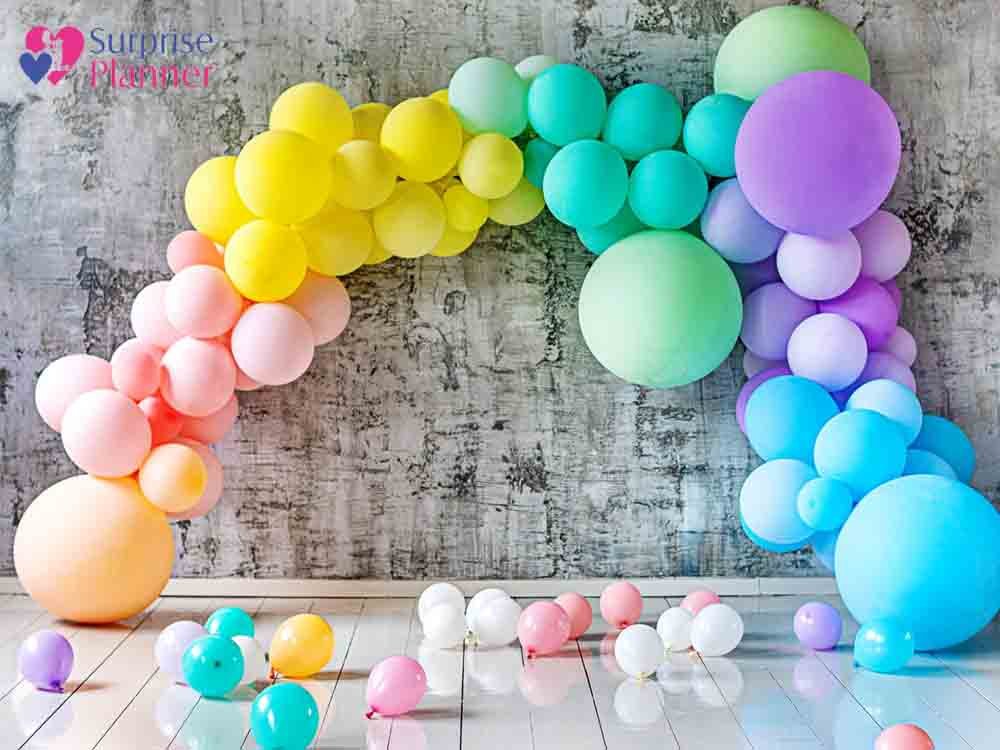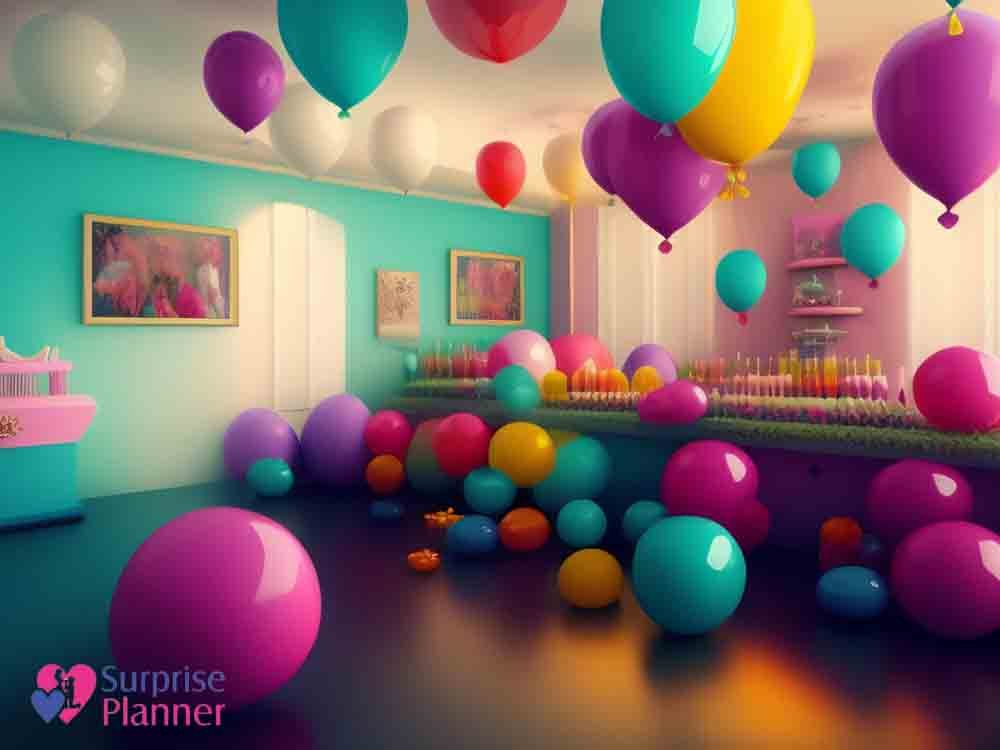 Everyone has a favourite colour and to have surroundings filled with your favourite colour balloons is happiness overloaded. Here are some common colour combination ideas that you may choose from to make your special day unforgettable.
Pastel Balloon Decoration in Golden Ring
Pastel shades are known for giving a soothing look, rest to the eyes and peace to the heart. No matter which occasions it is, pastel shades are always a yes. Whether you have a stage at the venue or not, getting a gold ring decorated with pastel shade balloons will give you one!
Classic Black Golden Theme
One of the most liked themes is gold and black balloon decoration. It looks classy and is perfect for get togethers on special occasions. While black is elegant, golden gives a royal feel to the surroundings.
Blue or Pink Balloon Theme
Blue and pink colours have been used since ages to recognize gender as girls generally like pink and boys are associated more with blue. If it is a teenage girl's party like her sweet 16, then pink balloon decoration will be a thumbs up.
Similarly, bachelor's party or birth of a baby girl may also be celebrated with a pink balloon decoration. If it is a boy's celebration party, blue may be opted as a theme.
Bottle Green Decoration with Gold
Bottle green balloon decoration is one of the most elegant balloon decoration ideas. The beautiful shade is soothing to the eyes and sets the right mood for a calm and peaceful celebration. You may have a golden arch as the main support for this pastel shade balloon decoration for a posh event.
Multi colour
Multi color balloon decoration is all about happiness; the vibrancy straight away reaches the heart filling it with cheer. If the decoration is for celebrating birthday of a cheerful personality or anniversary of a bubbly couple, multi color balloon décor is the perfect choice. This is one of the most common balloon decorations ideas for your home.
Frame Balloon Decoration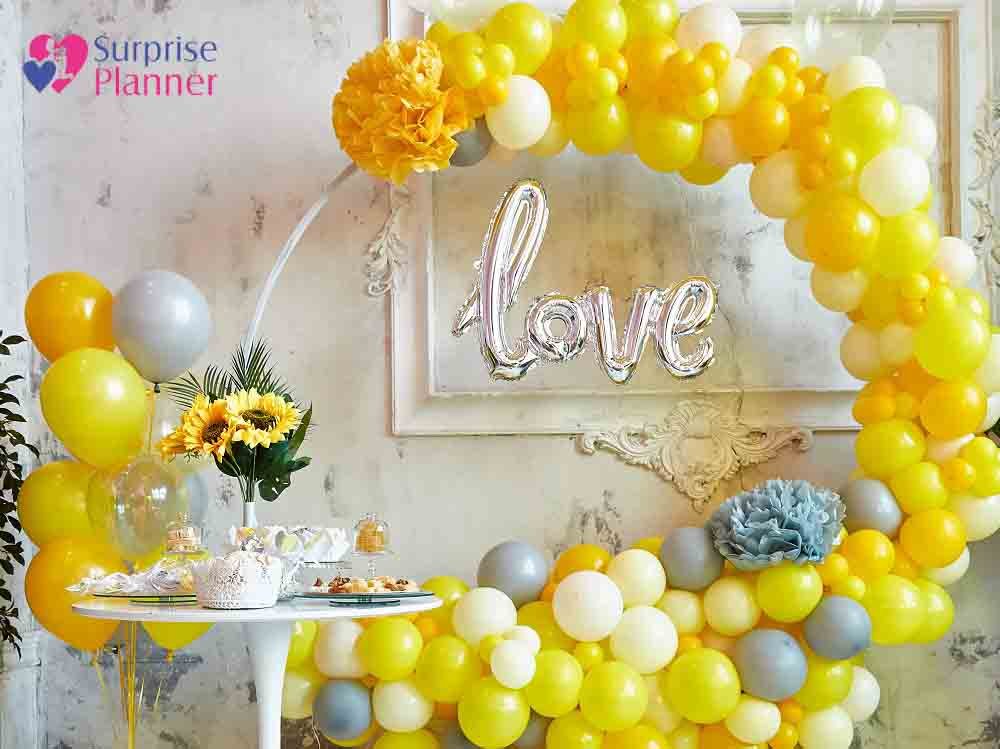 The trendiest way to get a balloon decoration done is to get a frame set up. Whether it is a mehandi ceremony, haldi ceremony, baby shower or any other occasion, setting up a frame is one of the best choices you can make. A combination of flowers and balloon set up as a frame can give you the much-needed vibe for an awesome celebration. Additionally, you can get some of the coolest pictures snapped in this beautiful frame for everlasting memories.
Balloon Decoration Flying to the Roof
Entering into a room and looking up with the roof full of balloons can make anyone smile instantly. Perfect décor for surprising your loved one, balloon decoration flying to the roof is yet another trending idea in the current times. Whether you want to propose your girlfriend or organize a surprise birthday party, this decoration is the best that you can opt for.
Rainbow Balloon Decoration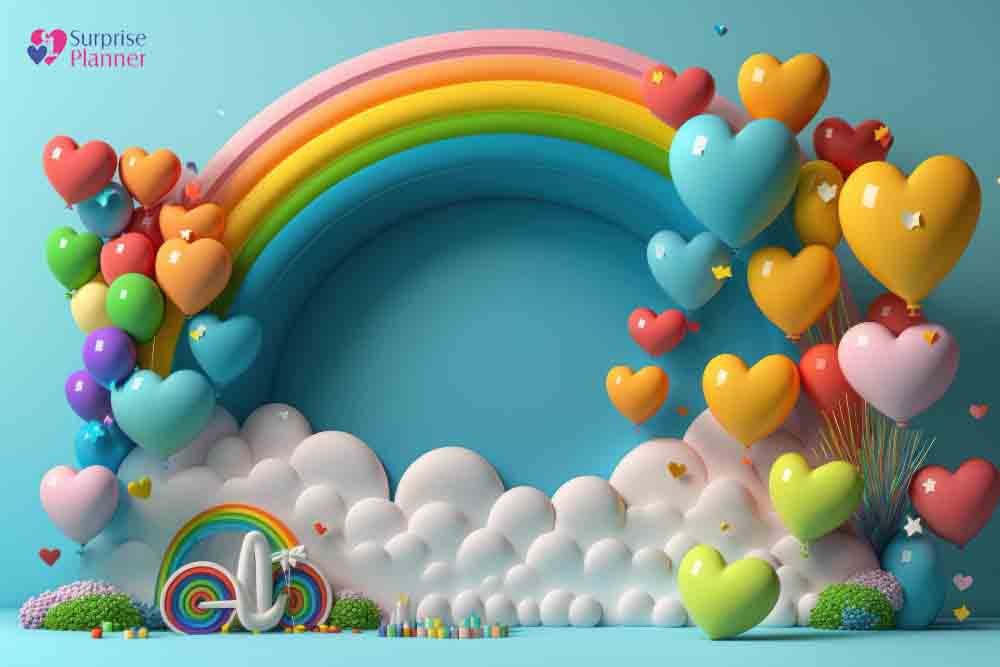 Rainbow or a VIBGYOR refers to beautiful colours collected together in a bow and when this magic is created with balloons, it makes you feel like walking amidst clouds. Rainbow decoration is one of the unique colourful decoration themes that you may choose for your kid who loves rainbows.
Ice Cream Balloon Decoration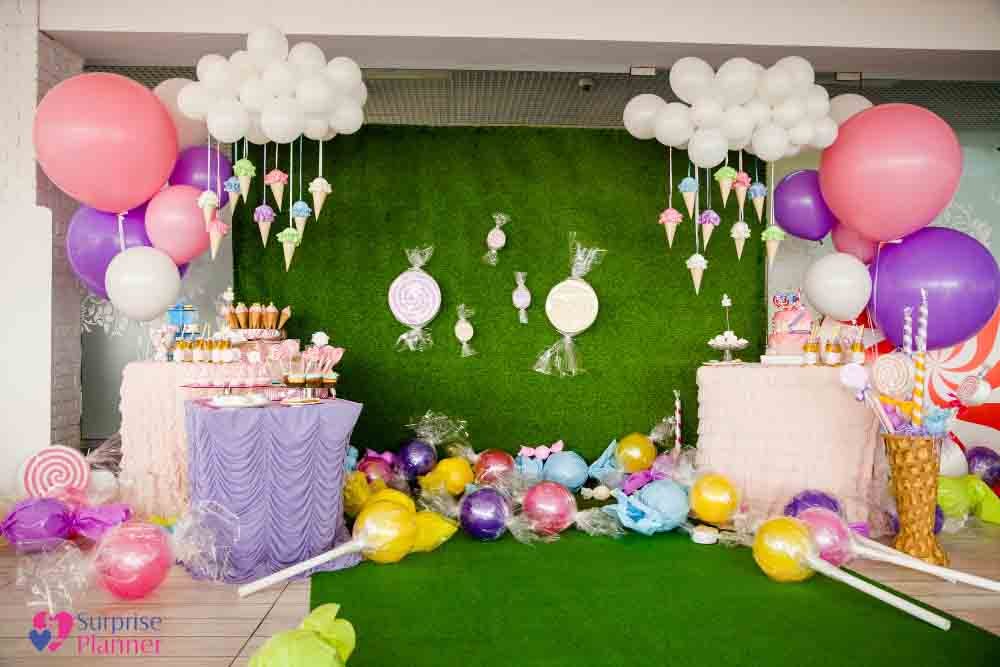 You scream, I scream, we all scream for ice cream, isn't it? Who doesn't like ice cream and having an ice cream theme party decoration is best idea to celebrate our fondness for it. Whether it is a summer party or a kids' party, ice cream theme balloon decoration can take your enjoyment to another level. If you had been searching for balloon decorations ideas for the kids birthday, this one they are surely going to love!
Animal Theme Balloon Decoration
Little children love animals and this is what has led to this decoration theme. Jungle theme is one of the most liked and enjoyed balloon themes when it comes to children's birthday party. The green and brown balloon combination and the animal standees are what children enjoy the most. So, if your child love animals, this theme can make his/her birthday memorable for him/her forever.
Sparkle Balloon Decoration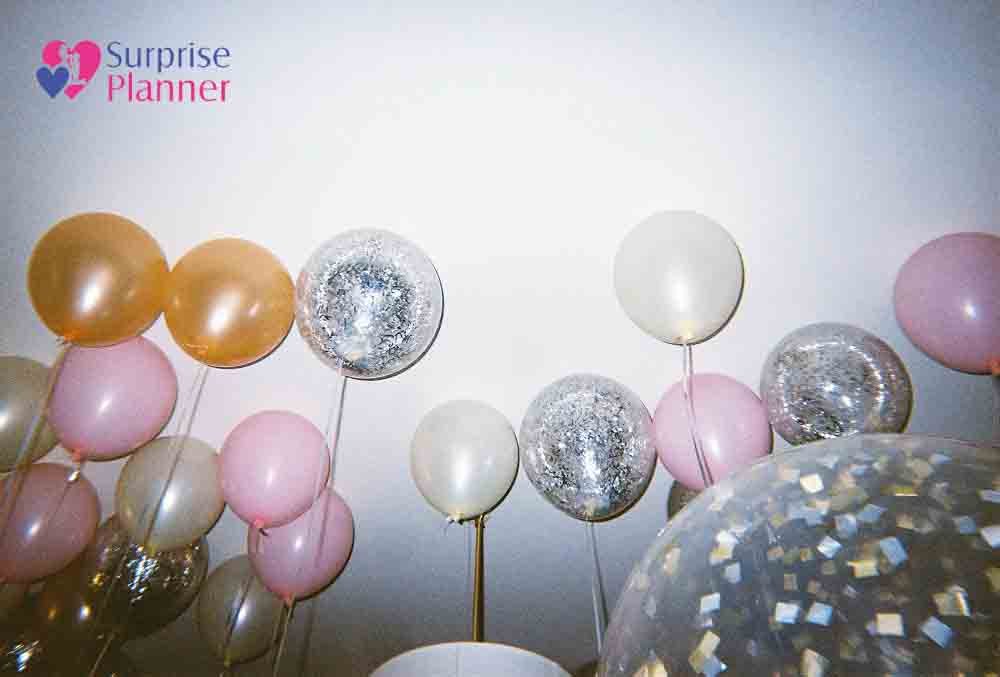 Yet another one from the top balloon decorations ideas, this decoration is for the ones who are fond of glitter! Imagine yourself being surrounded by beautiful balloons filled with little sparkling circles. For a moment this decoration will surely take you to another world making you joyful. This decoration is for those who believe in magic and spread their magic everywhere they go!
Cartoon Standee Balloon Decor
Kids love cartoons and so do most elders, isn't it? This decoration full of balloon cartoon standees is a treat for cartoon lovers. Whether you want to relive your childhood, or trying to create a Disney land for your kid's birthday party, cartoon standee balloon decoration is what you got to get done. It is one of the best balloon decorations ideas for the kids birthday.
Festive/Seasonal Balloon Decoration
Whether it is a festival or changing season, you may enjoy both by getting unique decorations done as per the theme. If it is winter, you may get a while balloon theme and get a balloon snowman installed. If it is Christmas, what about having a balloon Christmas tree in the corner of your home?
If you had been looking for creative balloon decorative ideas, decorating as per the season is best to celebrate both the occasion and the season. You may get beautiful flower balloons done all around to celebrate the summers or get it done as per Halloween, all up to you!
Neon Lights with Balloons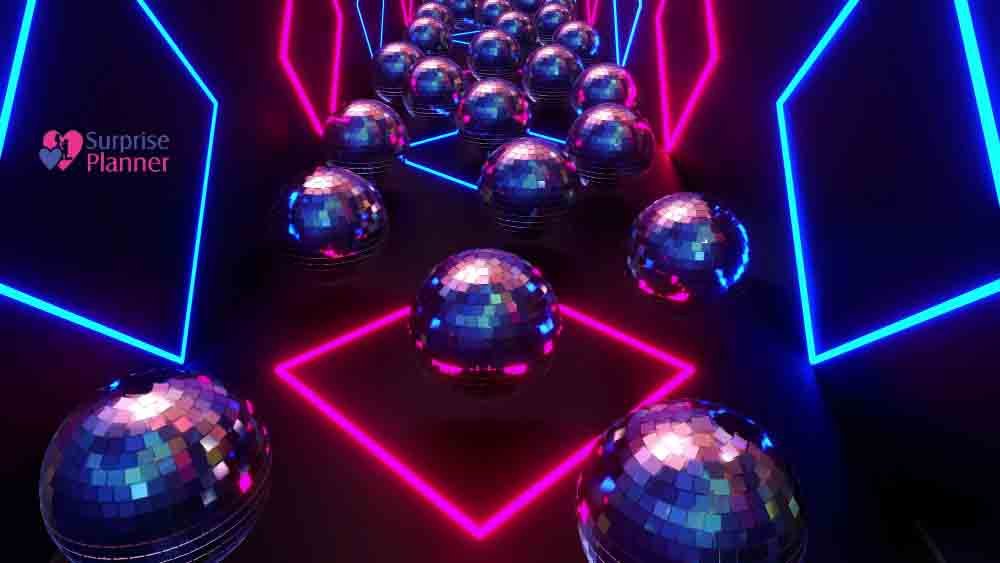 Neon lights have their charms and setting them up with balloons can give you a perfect backdrop if you are hosting a party. It is one of the best balloon decorations ideas for your home party as it looks both professional and cool. If you are the one who doesn't like to miss a trend, this is your call.
So, which party are you up to? No matter whether it is birthday party, anniversary or you are up to giving someone a surprise, balloon decoration themes are there for all. You may get it done at home or at a venue of your choice. However, planning and executing an event is hectic in itself, decorating by yourself may load you with more, leaving you with lesser time to enjoy.
Do not worry! Surprise planner provides the best balloon decoration in Jaipur and in other cities across India. Their services are timely and exactly how the team promises to you. If you have any confusion or want to customize the decoration, all you got to do is simply share your details with them! So, what are you waiting for? Contact them right away so that you can enjoy the special occasion instead of getting busy!