Isn't all the firsts of your life way too special, and when we talk about the first time with the person you love, it is one of the most beautiful memories of your life? Those two people are filled with mixed emotions of excitement, love, anticipation, and joy. Celebrating the first night means that the newlyweds have finally become one. The first night spent as a couple is a special occasion marked with expectation, love, and excitement. It is expected to set the stage for an unforgettable and intimate experience.
Before moving ahead, we would all agree that the decor of your first night should be as special as the night itself. It should reflect the significance of the occasion, and it should not be improvised. The tone for a special first night can be set by creating a romantic and enticing ambiance in your room. Overall, couples expect the room decorations to create a romantic haven where their love can flourish and create lasting memories. The bride and groom are expected to have a good time that night, but if nothing is arranged carefully, things could go wrong. In this article, we'll look at a number of inspiring and imaginative decorating concepts that may turn any room into a sanctuary for romance and intimacy. Let's explore the world of romantic room design and make your first night together a spectacular celebration of your love. From lighting to textures, from smells to personalised touches, we have covered it all.
1. A Romantic bed of flowers
The bed is the main attraction of your first-night room, so it is crucial to decorate it tastefully and carefully. Flowers are the first thing that come into your mind when we think about a wedding bed. And choosing roses for your room decor is icing on the cake because Roses can never go wrong with the love. You can use as many flowers as you can to make your bed look attractive and appealing. You can ask your florist to make a big heart of flowers along your and your partner name. The next step is to add luxurious satin or silk bedding in romantic shades like deep red wine, or blush pink. To make the bed feel pleasant and cosy, pile on soft pillows and a plush comforter. You can consider adding heart shaped pillows with these. As the cherry on top, you can even add a canopy or netting above the bed. It gives the space a dreamlike and ethereal feel, turning it into a personal haven for you and the person you love.
2. Flower string around the bed
A delicate string of flowers draped around the bed is one of the elegant accents to include in the design of the first night's space. It can add a heavenly abode to dreamy moment. An air of romantics and natural beauty fills the scene as brilliant blooms gracefully decorate the area. The flower string gives the space an ethereal and dreamlike atmosphere by using delicate pastels like soft pinks, and whites. The couple becomes immersed in a pleasant, tempting aroma as the flower's fragrance improves their sense of smell.
3. Petal Pathways

Petal pathways are a magnificent addition to the decor of a first-night space, engaging the senses and fostering a romantic and magical ambiance. Petal pathways are a magnificent addition to the decor of a first-night space. Create a trail of petals leading from the entrance to the bed, or arrange them in heart shapes or romantic patterns on the floor.The sweet smell fills the air with a soothing charm, and the appearance of these petals inspires feelings of love and beauty. The sweet smell fills the air with a soothing charm, and the appearance of these petals inspires feelings of love and beauty. It feels like a fantastical adventure to walk along these petal pathways, which increases the excitement and generates a magical atmosphere. It creates the atmosphere for a special and intimate first night where every move is infused with the spirit of love.
4. Fairy Lighting all around

Decorating your room with fairy lights is one of the best, classy, and most expensive ways to create magic in that space. Soft, warm lighting can make the atmosphere more cosy and intimate for the lovely couple. You can drape the lighting around the wall, around the bed, or with pictures of your room to make the environment look more appealing. To give the space a dreamy aura, twinkling fairy lights can be strung along the ceiling, headboard, or curtains.
5. Scented candles all around the room
You can never go wrong by including candles in your first night room decor. Adding scented candles in first night decor is an evergreen idea. You can use scented candles, essential oils, or reed diffusers to infuse the air with captivating fragrances. Choose scents that are believed to be calming and romantic, such lavender, vanilla, rose, or jasmine. Your special night will be enhanced by the soft aroma, which will create a sensual atmosphere, awaken the senses, and add a level of closeness and relaxation.
6. Pictures hanging around the room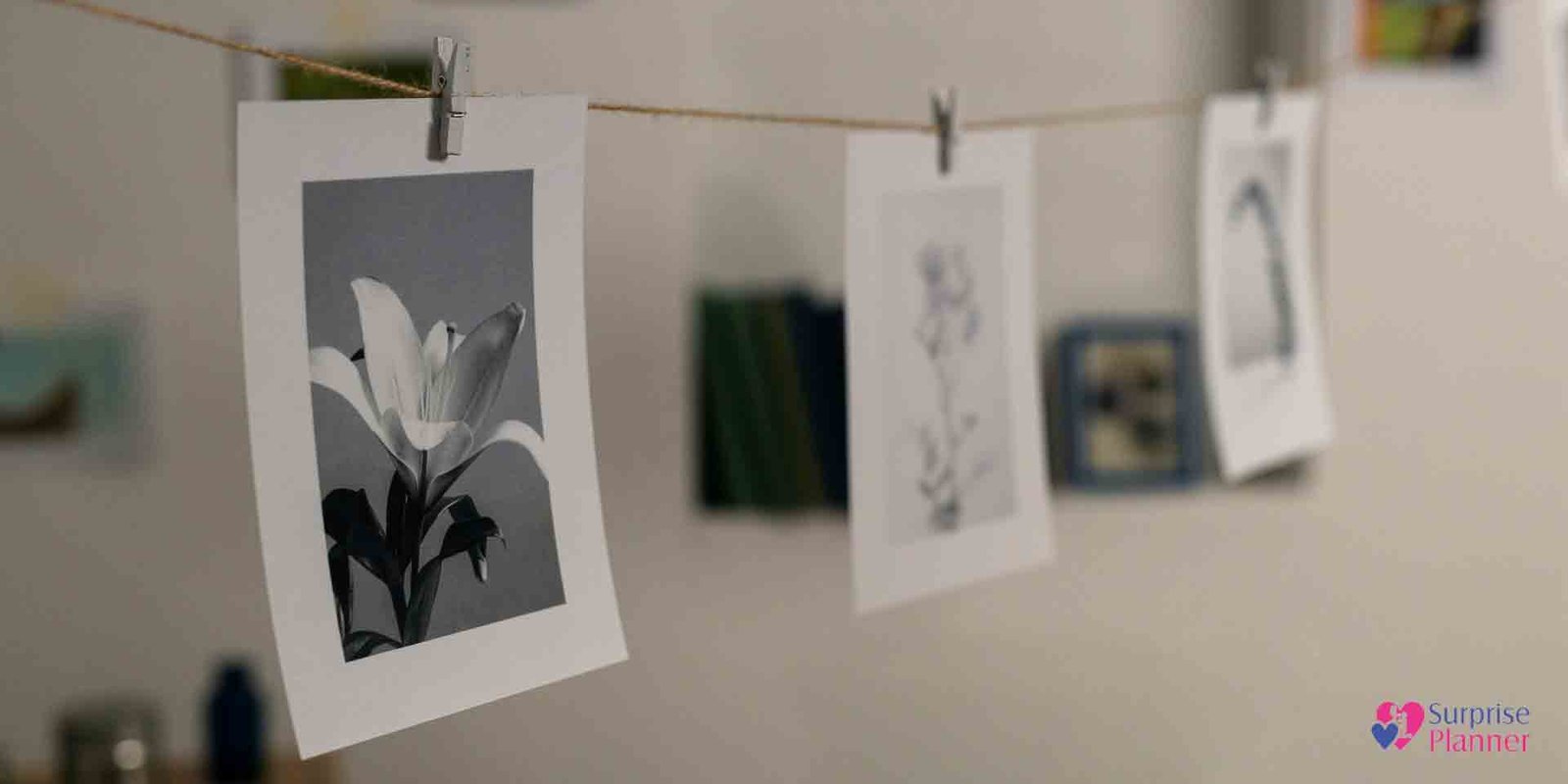 Remembrances of your love journey are a beautiful feeling. You can hang pictures of the beautiful moments of your love journey to add a personal touch to the decor. Displaying framed pictures of you and your partner or creating a collage of memorable events in your relationship can make your bond stronger. You can make the best use of your romantic pictures in your bedroom by using images from the first time you met to the time you got married. You can decorate them by hanging balloon around them or to give a more intimate look use sattan ribbens or lighting to hang them. Trust Us, This will create the magic you never thought of.
7. More And More Balloons
If you want to add a playful and festive touch to your room decor, go with balloons. They can be scattered around the room, tied to the bedpost, or allowed to float gently in the air. You can hang them on the roof with the help of satten ribbens. Use them in the shape of hearts or simply in the couple's favourite colours; balloons add a whimsical element to the ambiance. The couple's celebration is set against a backdrop of colourful balloons as a way to symbolise the start of a happy journey together. They add a little fun and excitement, which improves the first night as a whole.
8. Red roses and towel swans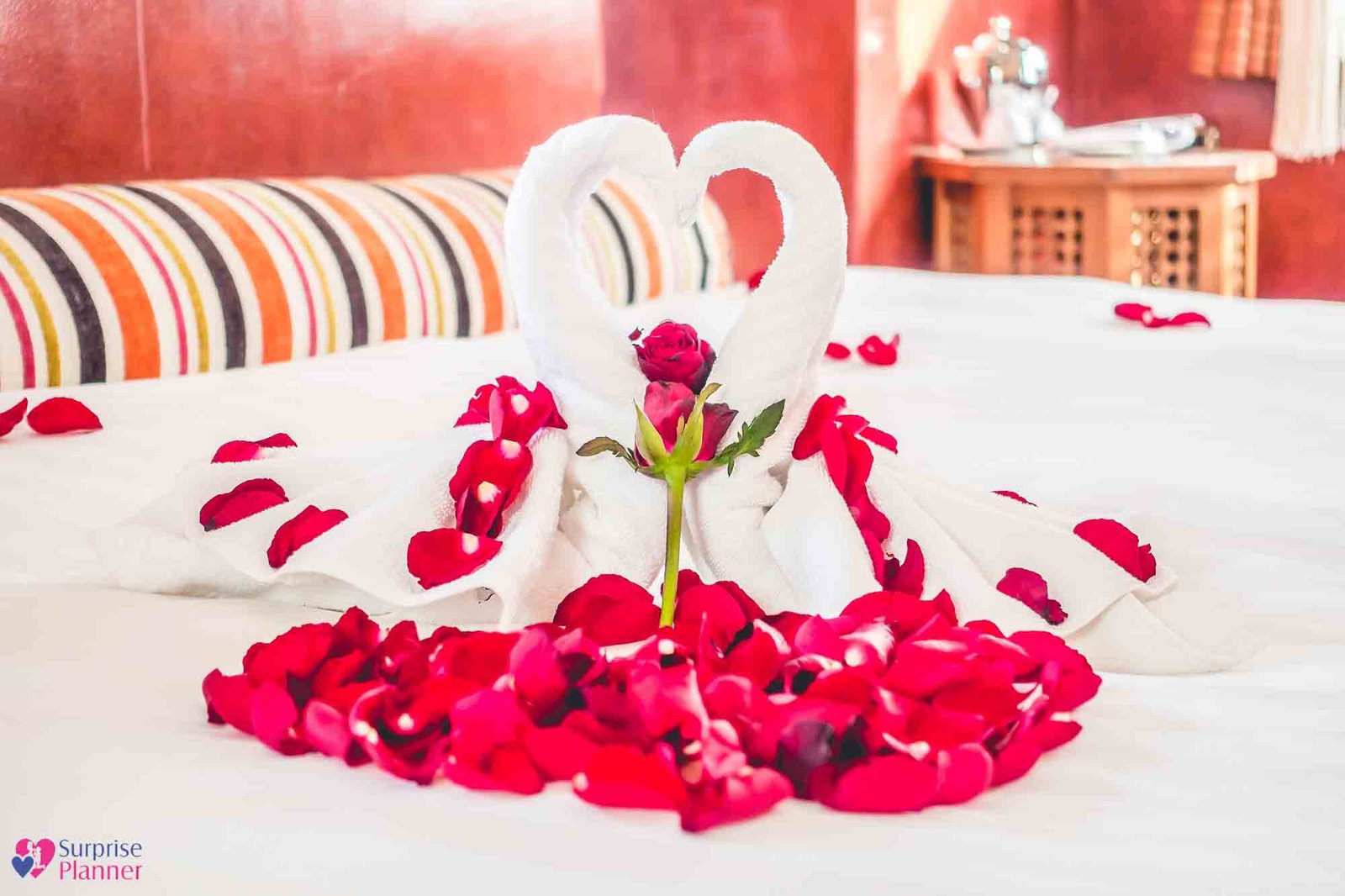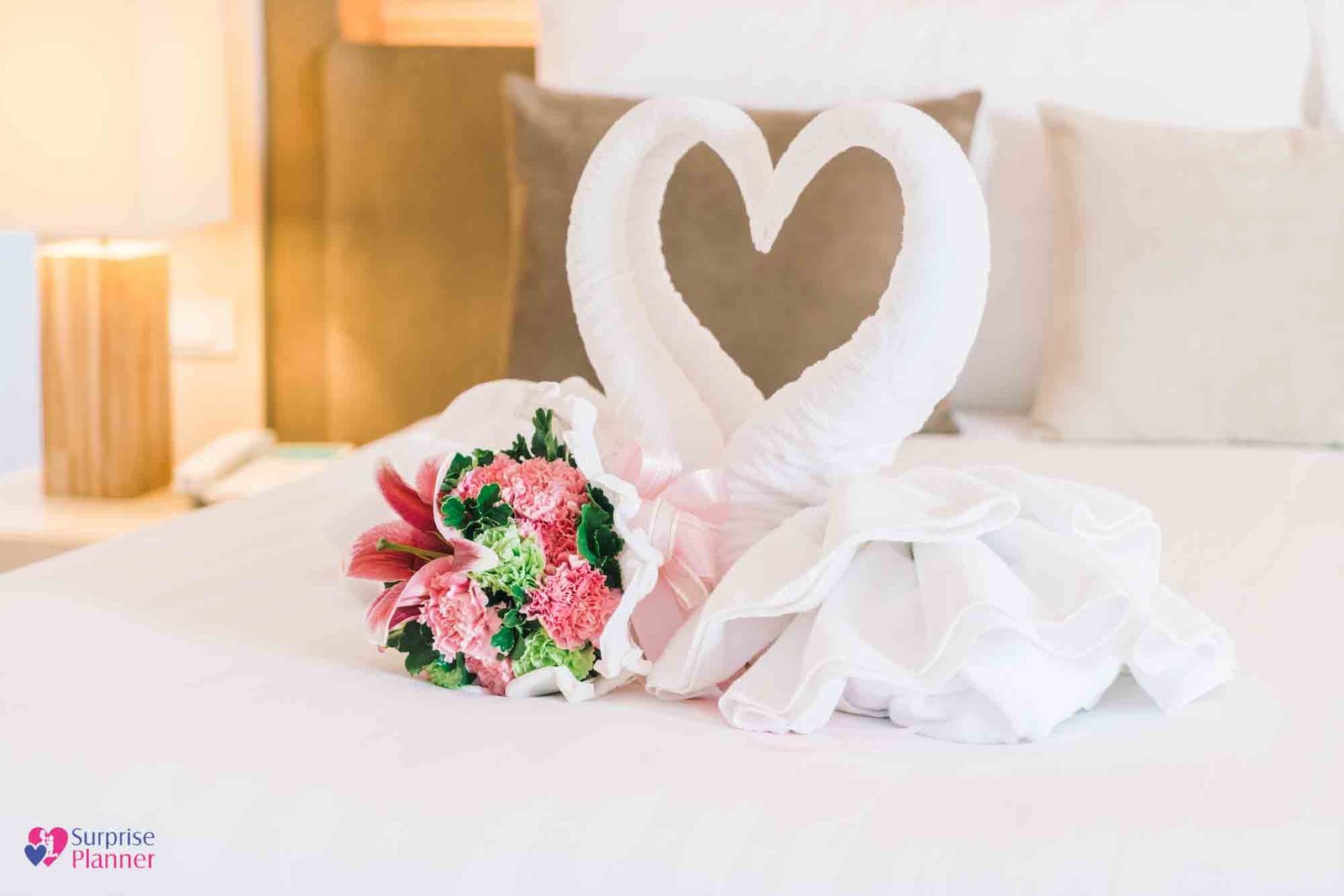 One classic element you can add to your room decor is towel swans decorated with red roses. This can add an extra touch of elegance and romance in the room. Carefully carve towles into beautiful forms, to give a touch of elegance and playfulness. These beautiful works of art are displayed on the bed or by the bathtub to represent consistency and love. The care and consideration that went into making these swans are evident from the work and attention to detail that went into their creation. Red flowers and towel swans come together to provide a beautiful exquisite piece of beauty and love. For the couple's first night together, they improve the atmosphere and create a special, private environment that makes the occasion wonderful
9. Champagne and Chocolate
The night you are decorating for is for celebration and celebrations can't be happened with champagne. Arrange a bottle of champagne with two elegant glasses complete it with a plate of chocolate the spreed the sweetness of of love. This is a tempting and romantic treat for you and your partner to celebrate your love and your love journey. The icy champagne and the sweet chocolates will make your special night feel even more luxurious and increase your level of fun.
10. Soft love melody
Set the room with soft love music in the background of your decor. Prepare a playlist of your favorite love songs to play all night. You can also go for instrumental music for a relaxing and charming ambiance. The music will fill the space and create a romantic and peaceful atmosphere while also bringing back fond memories and feelings. As you and your partner celebrate your love and begin this new chapter of your lives together, let the music work its magic.
Towards the end.
So these are the ideas you can use to make your first night together memorable. Aside from these, you can add anything to the decor that can make you or your partner happy and add an extra personal touch. It's important to enjoy and remember your first night as a couple. You may take the experience to a whole other level by paying close attention to the little things and making a romantic room. This is the moment for you to remember all the memories of the past and to create a new one at the same time.
A recommendation
Indian weddings are big affairs. It is full of work, ceremonies, dances, and Fun. As it is a hectic occasion, don't forget to add some food to that room. You can go for fruits, juice, sweets, some cake, etc. In case any of you feel hungry, you can have them by your side.