Do you know what a magical night with your partner would look like? It is a night swarmed with all the romantic things arranged in a conventional way that creates of fantastic and cozy atmosphere that eludes romance! Are you also thinking about spending such a night with your partner?
If so, then the best way to spend the magical night with your loved one is while spending time together over a candlelight dinner at home to make your partner feel loved and at the top of the world! But how about you ditch the four walls and go on an outdoor candlelight dinner? Sounds like a fairytale, right? Well, if you are up for a little challenge of turning your fairytale romance into reality, then here we are with the most romantic Outdoor Candle Light Dinner Ideas that will sweep your partner off their feet!
So let's get started without much ado:
A Fairytale Garden Candle Light Dinner: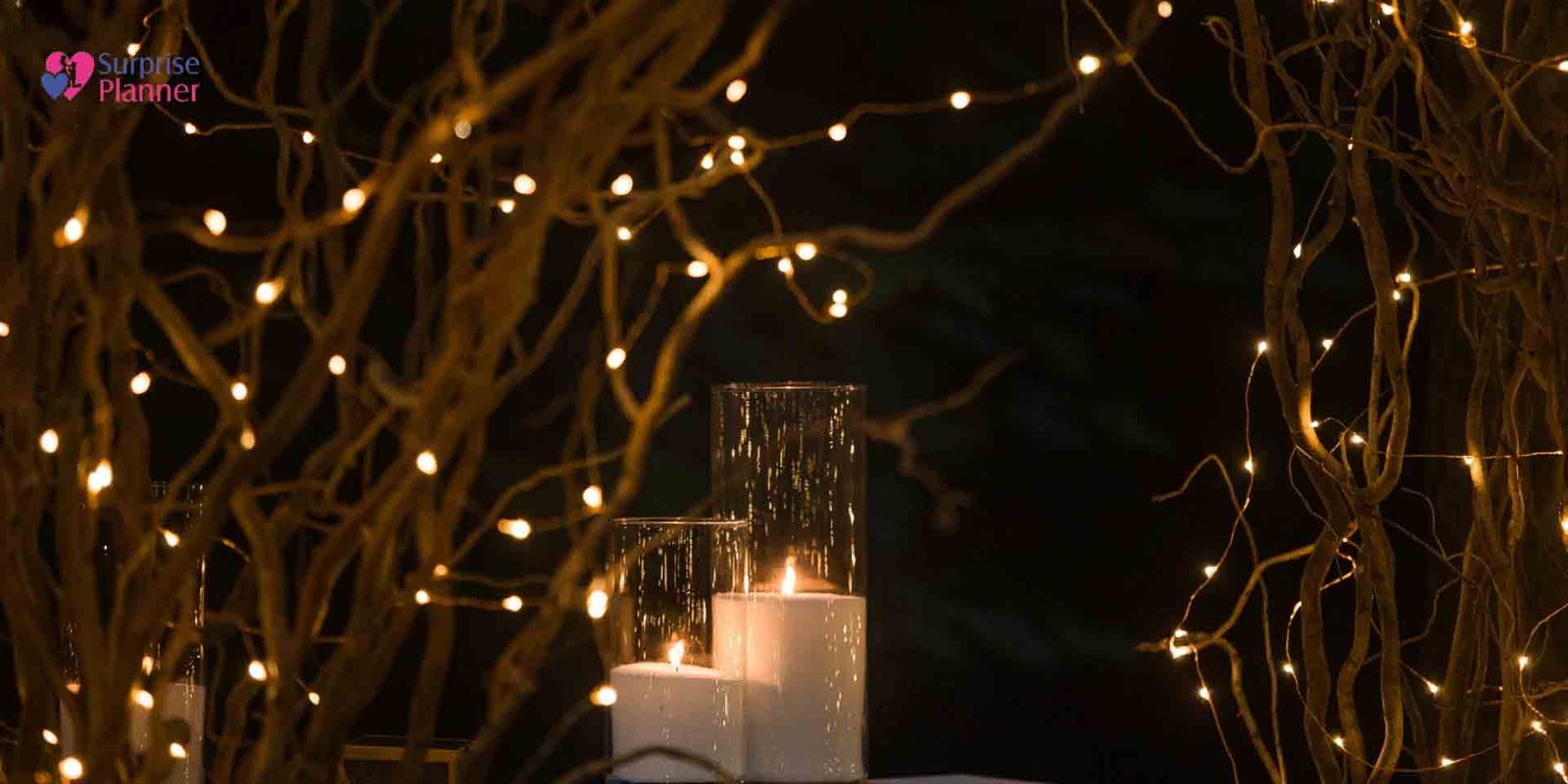 What can showcase "Love" more than eating amongst beautiful flowers that elude romantic vibes? Treat your date to the most romantic dinner in the garden by hanging fairy lights, paper lanterns, candles, and flowers from plants and trees.
One of the most fairytale-like Tips for a Magical Night is to ensure that you create a warm glow with the decoration that adds a cozy and picturesque setting as the daylight fades. Don't forget to set a table that covers some of the most beautiful flowers and petals scattered on the table and a bouquet of flowers that are your date's favorite. Prepare a meal that is light and fresh that matches the fascinating Garden Candle Light Dinner theme!
Let your date know how you adore them!
A Romantic Pool Side Candle Light Dinner:
Ever thought how magical a candlelit pool would look at night? How about taking your date on a magical poolside Candle light dinner? It is definitely one of the most beautiful outdoor Candle Light Dinner Ideas that one can ever think of. You can capture the mood of a nice ambiance with the pool and set a dinner table by the side of the pool.
Decorate the splash zone with some of the most stunning tealight candles and flower decors to transform the pool into a sweet retreat reflecting the aura of your love. If you want to make it cozy, then you can also add a sitting area nearby the pool with fluffy cushions and blankets to snuggle up for late-night talks nearby the water's edge.
Don't forget to add some cocktails to spice up the dinner date!
A Tent of Cosiness with a Candle Light Dinner: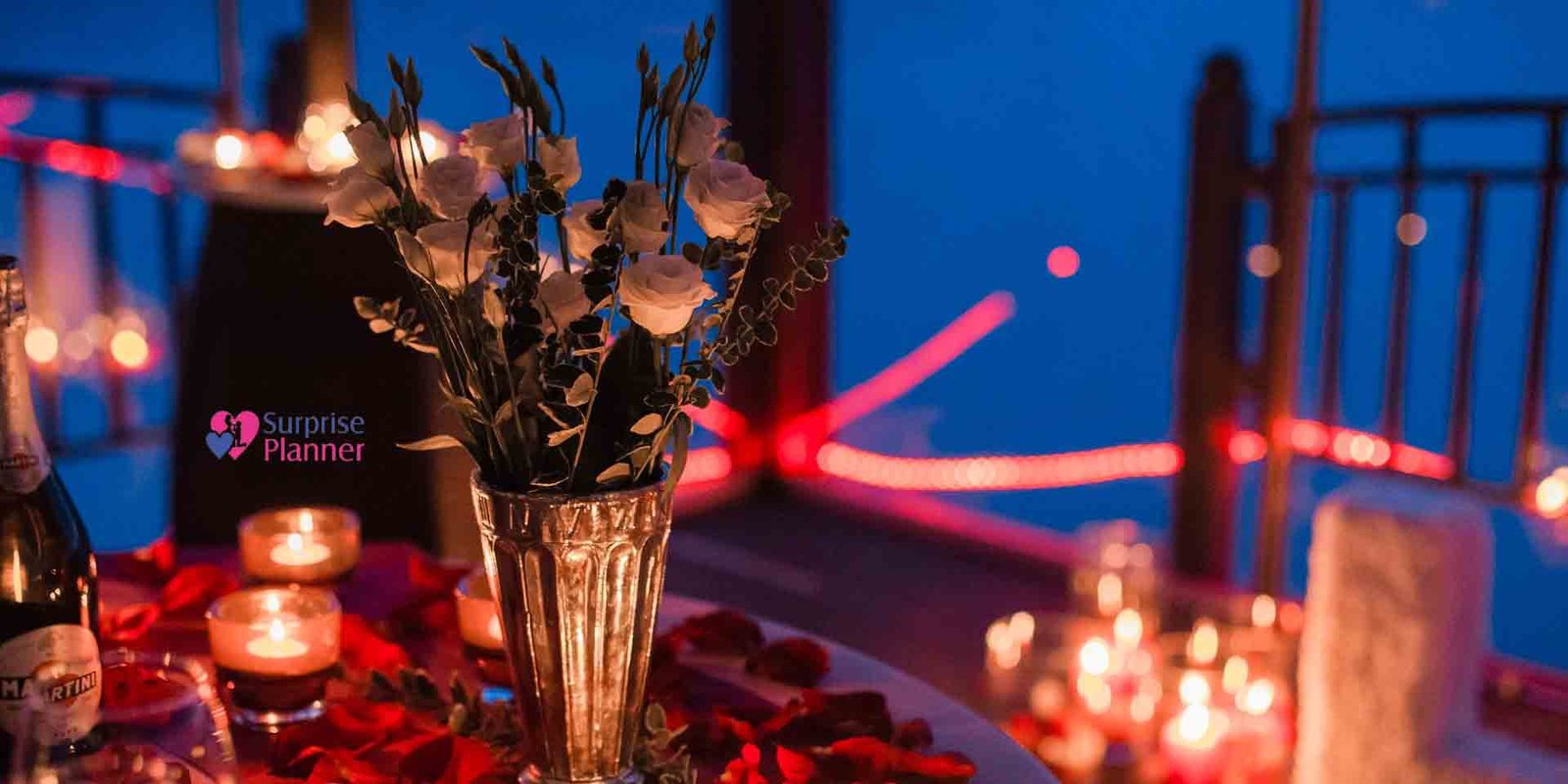 One of the most exciting Tips for a Magical Night is to turn up the level of Cosiness with a Canopy or Tent Candle Light Dinner. Take advantage of an illuminating and cozy setup that is lit with several candles and fairy lights, setting the tent with a warm glow!
Make your dinner date interesting by adding some cushions for maximum snuggling and keeping both of you warm on a chilly winter night. Line up the floor with stunning tealights and add an air mattress for maximum comfort. Don't forget to serve hot chocolate with marshmallows or sugar cubes to keep up the romantic feelings eluding.
You can also add a campfire to make your date warm and filled with love.
A Picturesque Beach Candle Light Dinner Date: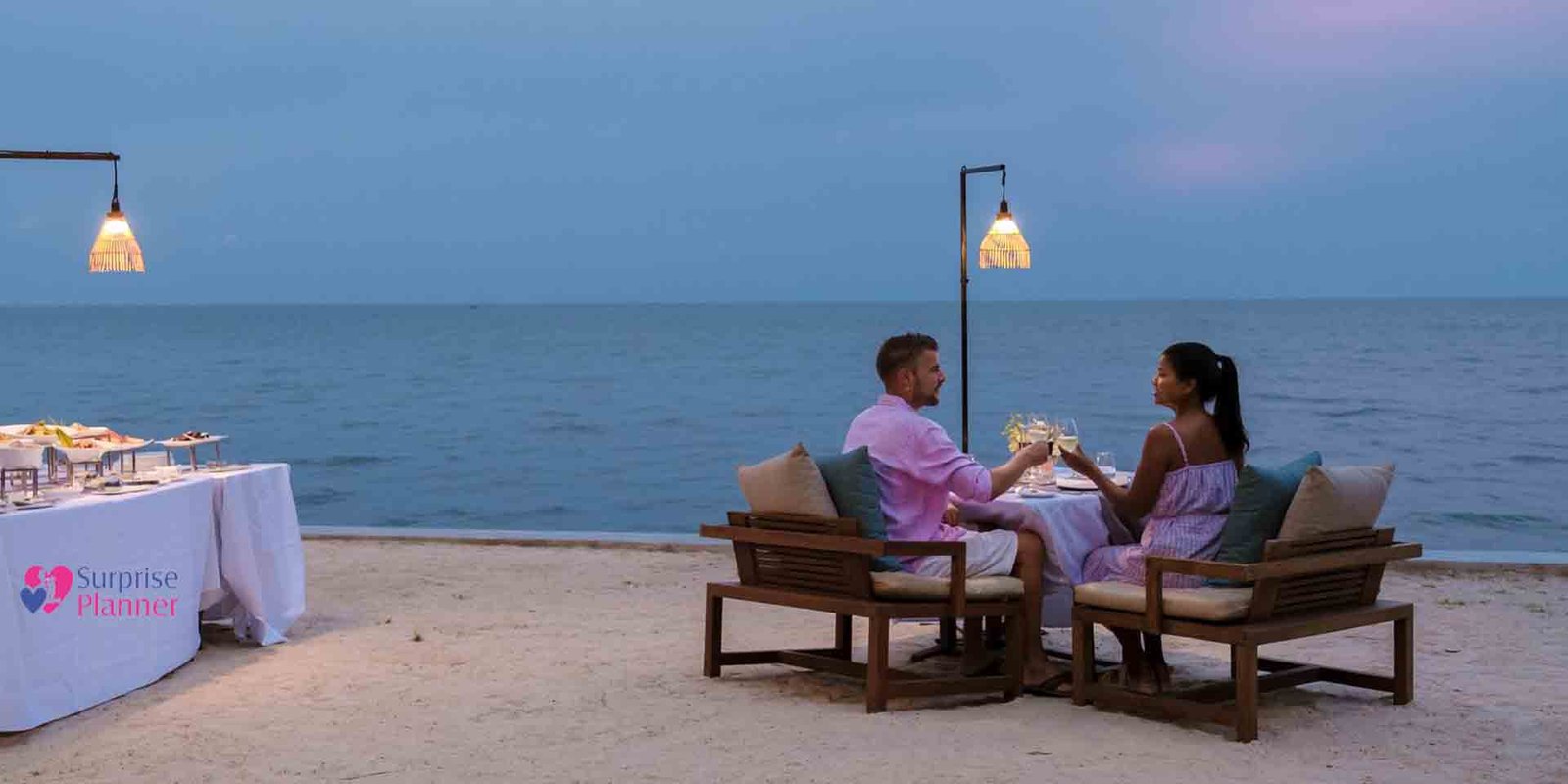 What's one of the most movie-like Outdoor Candle Light Dinner Ideas that you can ever think of? Yes, it is a Beach Dinner Date! A picturesque dinner for the two of you while watching the soft waves and the sunset spreading its setting glow on both of you. Doesn't it sound out of the world to you!?
Line the pathway with small candles to the table for your date to reach out to the table decorated with a flower centerpiece and candles. After all, who doesn't like a gleaming pathway?
If you want to add some Beachy romantic Vibes, then you can also add classy towers and flower petals dipped in the soft pink hue. You can also add oysters to elevate the beach date! Arrange a dinner with wine or other beverage that is your date's favorite to complete your night on a sweet note!
A Luxurious Rooftop Candle Light Dinner:
Not sure which venue would do justice to your ideal Dinner date? How about a Rooftop Candle Light Dinner Date with your lover? You can book a restaurant for the date or arrange one at your terrace if you like to challenge yourself.
Some of the tips for a Magical Night that you can totally count on for a wow dinner date is to make sure to add some personal touch to the overall dinner date setup. Fill the place with glamouring candles and flowers to create an ideal atmosphere for your candlelight dinner date.
Decorate the place with centerpieces and tea lights, and also customize a gorgeous bouquet for your partner. After all, what's better than a bouquet of fragrance-eluding flowers? Complete the night with your date's favorite food and a great bottle of wine!
Conclusion:
Keep things passionate with each other by planning some romantic gestures every now and then. A simple Candle Light Dinner Date can be turned into a magical night that both of you will cherish forever. Try our Outdoor Candle Light Dinner Ideas and work on your bond with the most dreamy dates while making your partner feel loved!
Not sure how to arrange a magical night? Well, Surprise Planner is here to do all the heavy lifting while you enjoy your date with your partner! Just let us know about your dreamy date ideas, and we will make sure to make your day even more enchanting with our professional services. Our team of Decor Wizards has years of experience in organizing the perfect date that will make your fairytale-like romantic ideas turn into reality.
So what are you waiting for? Reach out to us and book a night filled with love and magic!